Qigong at the Library
Tuesday mornings | 9:00 a.m.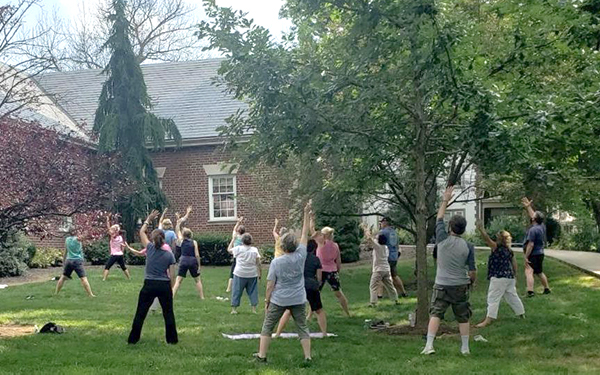 *** Qigong will not meet on Tuesday, May 18, 2021.
Wyomissing Public Library holds weekly hour-long practices of Qi Gong, an ancient system of coordinated body-posture and movement, breathing, and meditation. The practices are scheduled for Tuesdays at 9 AM, to be held either in the library community room or on the lawn at the library at 9 Reading Boulevard in Wyomissing, depending on the weather. Face masks must be worn and social distancing will be in place. Participants should wear comfortable clothing.
Jay Umble, a Certified Qigong Instructor based in West Reading, will lead the practices, as he has in the past. Mr. Umble is a student of Francesco Garri Garripoli, a world-renowned QiGong instructor and author. According to Umble's website (https://fengshuilogic.net/my-story), he is "passionate in sharing the life benefits of Qigong practice and Mindfulness meditation. My workshops quickly demonstrate how accessible Qigong and Mindfulness meditation are for every one of all ages. I teach that when we find our breath through Qigong practice and Mindfulness meditation practice, we find that often elusive peace that is within all of us."
There is a $10 fee, which will be divided between the library and Mr. Umble. Practices are open to the public, but registration is required: email ann@wyopublib.org, or call the library at 610-374-2385.